I had a fun, fast weekend filled with family events, but I did have time for just a little free-motion quilting on my Charming Squares quilt.
View of the back
Today I'm linking up with
Marelize at Stitch by Stitch for Anything Goes Monday.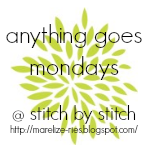 Color Me Quilty!
Pat
My grandson's 7th birthday celebration. Pancakes courtesy of Pee"Pancake"Paw!