I hope you're not getting bored with the FMQ on my Charming Squares quilt, because I have a lot more squares to quilt. So here's a few more quilted squares. (This really is so much fun).
I'm getting better at echoing, which is what ties these designs together.
Today I'm linking up with
Marelize at Stitch by Stitch for Anything Goes Monday.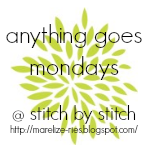 Color Me Quilty!
Pat