I must like challenge, because I signed myself up for another one. Yesterday I received my QuiltCon Michael Miller Challenge fabric. Ugh, pastels! Wasn't the last one pastels too???!!! Not my thing, but I guess that's what makes it a challenge.
The Rules!
*UPDATED* Only

Cotton Couture

fabrics are permitted. (The back and binding may include Michael Miller prints.)
You don't have to get the free fabric to be involved - all you have to do is use the Michael Miller Spring Cotton Couture line in your quilt! Below are the colors of the fabrics that will be sent.

OPAL
BREEZE
BLOSSOM
SPA
SPRING
CANDLELIGHT
CREAMSICLE
SOFTWHITE

Quilts must be entered

here

to be considered for the challenge at QuiltCon.
Quilts will need to follow the general rules of the QuiltCon Quilt Show found

here

.
Since I don't know of a local quilt shop that sells Michael Miller Cotton Couture, I ordered some additional colors from
Hawthorne Threads
(well at least they're in Albany, NY).
I picked out Lime
and Marine
You know, the usual suspects! ;) I needed some contrast!
I have a design in mind, but not sure how I'm going to actually piece it.
Anyhow, I'm linking up with
Free Motion by the River for Linky Tuesday
and
A Quilt Story for Fabric Tuesday.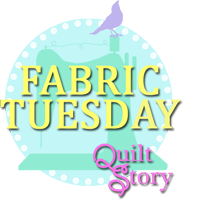 Color Me Quilty!
Pat