A little FMQ fun on my Koi Pond quilt
Saturday was a beautiful, warm day, at least for the finger lakes area of New York state. So I decided to go gallivanting in the name of quilting. I went to three quilt shops! The problem is to get to them. I ended up driving the entire way around Seneca Lake. Seneca Lake is the largest finger lake, which is about 40 miles long. One of my stops was
O'Susannah's in Watkins Glen
. It is a lovely little shop, made even better because they sell Aurifil thread. I picked up a few more colors, so that I could continue quilting my Koi Pond quilt.
I've played around with variegated thread, but this is the first time I actually used it in a quilt. I like it.
A few more little fishies and quilting around the flowers.
I have to have a well stocked pond, so a few more fishies.
My machine, a Pfaff QE 4.0, is a bit temperamental to say the least, but this thread is running through my machine really well. I am having so much fun quilting this quilt. Unfortunately, my long weekend is over and I'm going back to work.
Today I'm linking up with
A Quilt Story for Fabric Tuesday
and
Free Motion by the River for Linky Tuesday.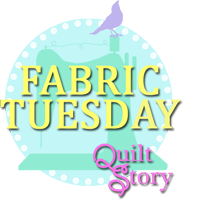 Color Me Quilty!
Pat