Wow, I guess I needed the time to get myself organized. I haven't been sewing much, I have been working on a lifestyle change. I have gotten up and walked for 30 minutes every morning before breakfast, just under 2 miles (about 4200 steps). My goal has been to walk 10000 steps a day (just under 5 miles). So for the last two weeks, I've walked nearly 30 miles each week. The detox diet has helps so much, I've lost about 16 lbs. and three inches off my waist. It's a Paleo lifestyle. The best part is that I'm no longer hungry all the time, that is a wonderful feeling. The only downside is that it takes some time to get used to the new routine, taking time from my quilting.
So finally, I've gotten a little sewing done, working on my Mod Ovals (olives). I like it so far.
These blocks are fun, but do take a bit of time to cut and stitch. I'm looking forward to spending some quality time in my sewing room.
I'm linking up today to
Anything Goes Monday at Bobbins and Bullets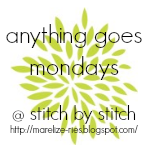 Color Me Quilty