There is definitely a learning curve with my
new Baby Lock Tiara,
not so much with the actual free-motion quilting part, but getting the tension set properly. There are no numbers or settings, just screws and knobs to turn. In my day job I'm a Quality Engineer, you know I have to find a way to measure things. After some research on the internet, it seems that bobbin tension is the key to setting tension on a longarm. I watched numerous videos on how to test it and thought I had it, but I was still getting "flat-lining" on the back of my quilted pieces, which would normally say I had to tighten the top tension, except that was so tight the thread kept breaking. So I decided to buy a TOWA gauge just to be sure, it measures tension in M Class bobbin cases.
I thought I had my tension set quite loose, but it was still too tight. After a few more adjustments, my stitches finally look good. So I basted my
Red Window quilt
and started quilting it.
I'm using red thread on the top and brown on the bottom. Not seeing much of the wrong color on either the front or back - Yippee Skippee!!!!
The back is dark brown fleece.








This quilt is so soft, perfect to snuggle on the sofa. I'm feeling a little better about my
new machine.
Linking up with Marelize at Stitch by Stitch for Anything Goes Monday!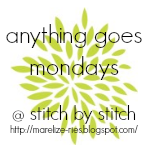 Color Me Quilty!
Pat