A bit out of the way, but worth the drive. Golden Lane Fabrics, Rt 14A, just south of Penn Yan, NY (This is their new location).
You can't buy happiness, but you can buy fabric and that's pretty close to nirvana. I was very, very bad this morning. Golden Lane Fabrics was having their annual 15% off everything in the store. The prices are already good, with this sale, the prices are outstanding. They have a lot of Moda fabric and quite a fair few Bella solids. Solids are normally $6.00/yard, $5.10 with 15% off. Tell me you wouldn't stock up. ;)
They also have a few more modern prints.
Needless to say, I bought way too much fabric (if there is such a thing). But it was sew much fun.
Here's my haul, minus some rotary blades that I forgot to put in the picture. The 12 fat quarters in the front are for my friend Kate, hope she likes them.
Linking up for
Anything Goes Monday over at Stitch by Stitch!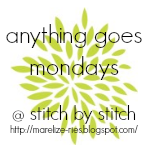 Color Me Quilty!

P

at