I'm pretty happy with my
Red Window quilt.
I finished quilting it on Saturday.
The texture on this quilt turned out great.
I used just fleece on the back, no batting.




This was the first project I quilted using my new
Baby Lock Tiara
and I'm thrilled with how it turned out.
Linking up for Anything Goes Monday, which is over at SergerPepper today
!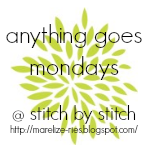 Color Me Quilty!
Pat