I finished my
tree quilt
top and back - Yippee Skippee
Front
Back
I did get it ready to baste and since my post on
"board basting"
is far and above the most viewed post I thought I would share a few tips and tricks on winding the quilt top and back on the boards.
I measure both ends of the board to help me center the quilt.
When you are starting to roll up the quilt on the boards, make sure it's centered on the board. It will make it much easier to unroll and baste.
See the tape holding it to the basting board
I use a little tape to hold the quilt back on the board to start. I did measure to make sure the I had it even across the board. In this case I used duck tape because that's what I had, but you could use masking. I don't worry too much about it leaving a mark/adhesive because it always plan to trim off that part. Although, I've never had it leave a mark, but I baste my quilt pretty quickly.
Lining up the quilt back with a horizontal seam in the back to make sure I'm rolling it straight on the board
The front was even easier to keep straight by rolling it and keeping it even with the vertical strip in the design.










Once you are done rolling it up on the boards, you can use more tape or rubber bands to hold it. I don't always have the time to baste my quilts all in one go, this way I'm half way there and I don't have to leave my quilt out on the dining room table (which is the best place to baste in my house).
To see more on board basting,
click here for pin basting
or
click here for spray basting.
I'm linking up today with
Free Motion by the River for Linky Tuesday
and
A Quilt Story for Fabric Tuesday.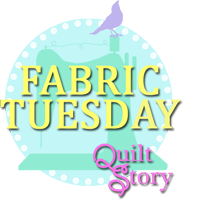 Color Me Quilty!
Pat