I've seen several examples online and locally of reverse applique'. I've always wanted to try it, so when my guild set out to construct a quilt to be donated to benefit T
he Cancer Resource Center of the Finger Lakes
, I decided this was the time to try it out - small scale.
Since the quilt is going to be raffled off at a special benefit show at the
Hangar Theatre
, I thought it may be appropriate to use theater masks in the block.
The reverse applique' was really quite easy. I traced my image on to the red fabric, then put the grey fabric under it and stitched the pattern. Then very carefully it cut away the top (red) fabric (seriously the most stressful part of the block). Presto!
Cancer leads to so many emotions, fluctuating between hope and despair. I'm really looking forward to seeing how this quilt comes together. Check out
IMQG's blog
for more of the blocks.
I'm linking up today to Anything Goes Monday being hosted at
Val's Quilting Studio.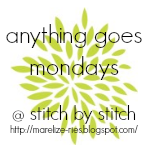 Color Me Quilty