I didn't have a lot of time this weekend to spend quilting, but last night I did have a few minutes. Since my
Tree quilt
is ready to quilt, I thought I would give it a go.
Quilted with Aurifil 5004. I just love quilting with this thread!
I had to practice a bit before I got to the quilt, make sure my tension was set properly.
Which, I'm glad I did take the time to practice first. My tension was bit off, but I got it sorted out and practice quilting a tree.
Front
Back
I'm linking up today to
Anything Goes Monday at Stitch by Stitch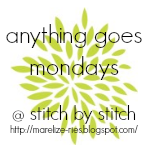 Color Me Quilty
Also, make sure you check out all the Quilts, Minis and Quilt Tops entered into the Pantone Quilt Challenge and vote for your favorite in each category.
To vote, just click on the heart in the corner of the picture of the quilt.