Woohoo! I love having a giveaway!
Lucy at Charm About You
is having round two of Fugly Fabric Giveaway Linky Party.
Last time, I had a blast giving away a ton of fugly fabric
, but this time I decided that I would give away some NOT so fugly fabric - some of my own hand dyed fabric. I really love this fabric and want to share a little bit with a lucky winner.
Three 1/2 yard pieces of hand dyed fabric. The base fabric is Robert Kaufman PFD (prepared for dyeing).
Cerulean blue, fuchsia and purple
Magenta, Fuchsia and purple
Two tone purple
Each piece has been dyed with high quality procion dyes and has quite a lot of variation.
How to enter to win 1.5 yards of Hand Dyed fabric:
1. Leave ONE comment about hand dyed fabric i.e. have you ever dyed, have you ever used hand dyed, do you like hand dyed etc. MAKE SURE I HAVE YOUR EMAIL ADDRESS so I can contact you.
No email, no winning!
2. For a second chance to win, follow my blog, tell me in a second comment. If you are already a follower tell me that in a second comment.
3. This giveaway will be open until May 13th at
7:00
p.m. EDT.
You can leave ONE comment per day on this post for additional chances to win.
I will ship internationally. Mr. Random will pick the winner on May 13th at 7:00 p.m. EDT, winner will be announced May 14th at 7:00 a.m. EDT. PLEASE make sure I have your email address,
no email address = no entry!
Now go over to Charm About You and check out all of the other folks that are giving away fabric. Just think how much you could increase your stash!!!!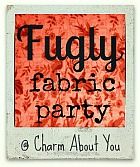 Update: The Giveaway is not closed. Thank you to everyone that participated! I loved reading all of your comments.
Color Me Quilty!
Pat