Last year I made several
quilty purses
and got kind of burned out on them, but I think it's time to make myself a new one.
I thought this fabric combo was nice and summery!
I like the size of this purse for summer.
This is a pattern I developed last December for
this purse.
Although, this time I'm trying out a new batting (actually it's an interface).
It's thick for interfacing (thin for batting) and is quite firm/stiff.
I think this will help the purse to hold its shape without being to thick and bulky.
I'm linking up with
A Quilt Story's Fabric Tuesday.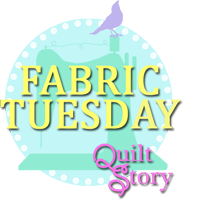 Color Me Quilty!
Pat