It feels so good to have this quilt almost done. I started this quilt in January! Even though the binding isn't done, yesterday was so beautiful I had to take some pictures.
Quokka Quilts QAYGFMQQAL.
I'm really loving how it is turning out. Now I just have to get the binding done. And speaking of binding, I saw this really cool method for faux piped binding in the latest issue of American Quilter magazine. I think I'm going to try it out on this quilt.
Today I'm linking up with
Sew Happy Geek for Manic Monday
and
Plum and June for Let's Get Acquainted blog hop.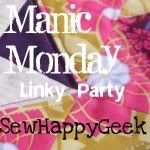 Color Me Quilty!
Pat