I just started this project a week ago. It's NOT a complicated quilt, but I did a lot of FMQing on it.
Noah's Art Baby Quilt
It WAS sunny yesterday, until I took the quilt out to photograph it!
I quilted around all of the pictures
The back of the quilt
Detail of the quilting (back)


I've washed the quilt to make it all soft for it's new owner! Just need to put a label on the back and I'll be ready to send it off!
Today I'm linking up with
Manic Monday
and
Sew Modern Monday
!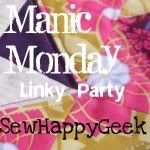 Color Me Quilty!
Pat
P.S. Don't forget to come back tomorrow for my fabric giveaway!!!!