After looking at Sew Cal Gal's March FMQ Challenge and Leah Day's QAL Wednesday homework, I realized I needed a quilt to quilt. I've had the Expanding Possibilities quilt top done since last September, but I wanted a pieced back. I've had the fabric, I just needed to do it!
I'm not sure I'm 100% happy with it, but I think it will work just fine for a back. Now all I have to do it find some place big enough to baste this quilt (it's 60" x 72").
Today I'm linking up with
Canoe Ridge for Sew Modern Monday
and
Sew Happy Geek for Manic Monday.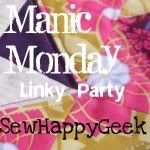 Color Me Quilty!
Pat