Oh I like it when I can catch up, even if it's just for a little while. Last night I decided to FMQ row three of Quokka Quilts QAYGFMQQAL. I'm quite happy with my results.
Stitched this as my extra block from week 1
"Warm and Natural has a scrim in it which can affect the quilting. It also makes a top and bottom to the batting. The bottom should be the rougher looking side since their needles have punched through the batt and scrim in that direction."
When I looked at the batting direction, sure enough it was backward, textured side up. All of the other blocks that stitched so beautifully had the textured side down. I have to say, it really helps when you actually do what the experts tell you to do!!! Thanks Alex!
Textured side
Smooth side
I guess that's how we learn. Needless to say, I really pleased with my results so far on this quilt.
I'm linking up with
Laura at Quokka Quilts for our QAYGFMQQAL
and
A Quilt Story for Fabric Tuesday!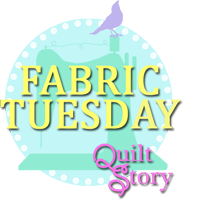 Color Me Quilty!
Pat