Sew Cal Gal is having a monthly FMQ challenge this year. I have completed
January
and
February
, so now it's time for March. The FMQ Expert this month was Ann Fahl. She basically told us to draw some designs out on paper and then let our imaginations have a good time. I think I did that!
A little doodling with a pencil.
A little doodling with a needle. (Front)
Back - I think this it the first time I've been this happy with the back of any of my FMQ.
Detail
Detail
I used a high loft polyester as an experiment. I will say that I probably won't do that again anytime soon. A little too puffy!
I had so much fun stitching this out. I have some more experimenting/embellishment I plan to do with this piece. I'll be showing that on Try New Things Thursday.
I'll be linking up today with
Sew Cal Gal for the March FMQ Challenge
and with
A Quilt Story for Fabric Tuesday!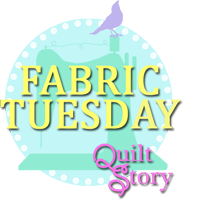 Color Me Quilty!
Pat