My three and five year old grandsons love to play matching games. I never really thought about how much that is used in adult life, much less quilting. But in the last few days, I've been matching.
Last night I finished "pebbling" my sewing machine cover. I think I matched
my previous work
pretty well.
Last week's pebbling
This week's pebbling
Yesterday in the mail, I received some purple Fairy Frost (Michael Miller) from
Fabric.com
. I really needed it to match the material that I had already used in
my storybook quilt.
The strip of fabric on top is from the previous batch
I picked this fabric up recently at my local quilt shop.
This is some Moda Marble (in real life this is a dark purple, it does not photograph well). Two different batches.


I think that the fabric matches are pretty amazing considering they were in my mom's stash I inherited and I would guess that they are probably close to 10 years old. I am amazed that both manufacturers maintained such high consistency in their dye lots.
I'm linking up with
A Quilt Story for Fabric Tuesday
!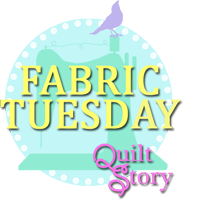 Color Me Quilty!
Pat