McTavishing
(for those who don't know) is a style of FMQ for background fill named for Karen McTavish. I have long admired this technique/design, so I thought I would give it a try.
I think I still need a little practice and I also think that it would have looked better if I had used matching thread, but not bad for a first attempt.
I'm linking up with
Sew Happy Geek for Manic Monday.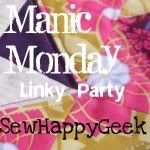 Color Me Quilty!
Pat