I never get as much done as I want, but I did get a little more done on my Ringmaster iPad case.
A little machine embroidery for the front.
Same batting that is used in Vera Bradley bags.
I love the dimension of the FMQ!
I've
used this batting before,
but did very basic FMQ. I'm really loving how this iPad case is coming together. I just wish it was done!
I'm linking up with
Sew Happy Geek for Manic Monday!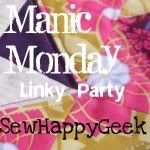 Color Me Quilty!
Pat