Stippling to feathers to echoing to McTavishing to pebbling, all on the same little sewing machine cover. I can't seem to help myself.
Pebbling takes a bit of time, so I didn't get real far on it, but I like the effect. I am having so much fun quilting on this little piece, I'm letting all of my other projects (some with deadlines approaching) suffer neglect. Oh well, quilting IS a hobby for me, I should have some fun!!!
I'm linking up with
A Quilt Story for Fabric Tuesday
!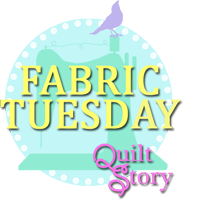 Color Me Quilty!
Pat