Well my
Quilt As You Go Free Motion Quilting Quilt A Long
(QAYGFMQQAL) is coming right along. Row 4 is now complete! Although I'm still a little short because my rows are an extra block long, I have all of the blocks
Laura from Quokka Quilts
has set out for us to complete.
A little McTavishing
Waves
Rose and leaves
Tree
Cone Flower
18 Blocks out of 30 are now quilted!
I'm really quite pleased with how this quilt is coming together! Can't wait to see what Laura has in store for us next!
Today I'm linking up with
Quokka Quilts for QAYGFMQQAL Row 4
,
Canoe Ridge for Sew Modern Monday
and
Sew Happy Geek for Manic Monday
!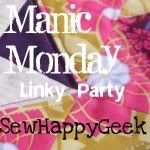 Color Me Quilty!
Pat