Phew, finally finished microstippling my wholecloth mini!
Microstippling almost became hypnotic after a while.
After I finished quilting my little wholecloth quilt, I needed to soak and block it. Leah Day makes it look so easy, which it probably is if you have the simple tools/equipment/facilities she had to do it. The first thing I didn't have was a bathtub. I know that sounds odd, but this was my husbands house before he met me and we have three nice showers, but no tubs. So I soaked it in the kitchen sink, it worked! Second thing, I didn't have, elastic. And since I live in the middle of nowhere, I just didn't feel like driving to get some. So my DH came up with a board and clamps, not pretty, but I think it's working.
So tonight, on to trimming and binding! I think that should be pretty straight forward.
I'm linking up today with Sew Happy Geek for Manic Monday!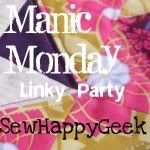 Color Me Quilty!
Pat