As some of you may know,
my mom was an avid quilter
and I inherited all of her quilting stash, which included a fair number of
UFO's
. So when
Leah Day's homework
for the week was to practice all we have learned over the last 14 weeks on a UFO, preferably one with applique, one of my mom's UFO's came to the rescue! Thanks MOM!
Beautiful hand stitched applique!
I think I know why it was left as a UFO! PUCKERS!!!
Lots of PUCKERS!
I pressed it the best I could and found this great fabric for some borders.
I decided to use some of the high loft poly batting I had left over from my
wholecloth quilt
, maybe it will help with the puckers. Now all I have left to do it FMQ!
There's still time to link up for QED (Quilty Embellishment Day) and a chance to win some Lumiere paint. Be sure to check out the great tutorial on applique by Melissa from Happy Quilting and some of the great projects that have already linked up! If you link up, please remember to link back, it's more fun if we all share!
Today I'm linking up with
A Quilty Story
's Fabric Tuesday!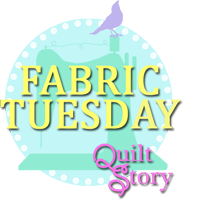 Color Me Quilty!
Pat