I decided I needed a change from cranking out Christmas stockings, so I switched over to a pillow (still a Christmas present). I had embroidered the turtle the other day, so it was quite easy to throw some borders on. My friends, whose present it is, love bright colors and I thought that the turtle fabric was just perfect.
Embroidery Library design
I'm looking forward to Thanksgiving, I do love to cook, but I'm really looking forward to a long weekend sewing. I'm hoping to cross off a whole lot of Christmas projects. (I just have to stop to pick-up some batting, I'm running very low.)
I'm linking up with
A Quilt Story for Fabric Tuesday
! Click on the button to hop on over to see what everyone else is up to today!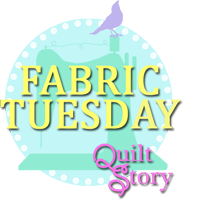 Color Me Quilty!
Pat